Posts: 173
Joined: Sun Mar 01, 2009 9:49 pm
Location: United States, Virginia, Powhatan
Is it possible to use a stock GSXR600 speedometer to download data and check all the engine management sensors? I don't think my AIM system can capture that data.
Ken Van Horn Novakar J9
---
Posts: 286
Joined: Sun Jul 22, 2012 3:20 pm
You can hook up the stock dash and use it, but I'm not sure it will tell you much. Bikes don't have to use OBDII protocals so they do everything custom. It takes a dealer with the special hardware and software to plug in and read the trouble codes. If you are suspecting a sensor on the engine you could take the car over to a local Suzuki dealership and have them read the codes and see what pops up.
---
Posts: 369
Joined: Thu Aug 20, 2009 4:13 pm
Location: United States, Alabama, Toney
I'd give Ryan a call over at HyperRacing. He knows his stuff. And they are a sponsor of the Challenge Series.
***********
George Bugg
Rakavon Chassis #1
F600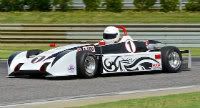 ---
---
Who is online
Users browsing this forum: No registered users and 2 guests